Providing Exceptional Legal Guidance Since 2008
Put an Experienced Advocate on Your Side
TAKE ACTION TODAY
Dangers of Texting & Driving
Jan. 1, 1970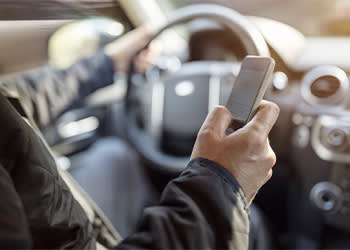 We live in a fast-paced world full of distractions. Cell phones are the biggest distraction for the vast majority of Americans. Texting while driving, in particular, is arguably the most dangerous distraction that can result in preventable accidents. These accidents are evident from the number of deaths caused by distracted driving.
According to the National Highway Traffic Safety Administration, distracted driving — including texting while driving — was responsible for 3,142 traffic fatalities in 2019. If you or someone you love has been involved in a car accident caused by a distracted motorist, reach out to me at the Law Offices Of Garry F. Connell, PA. As a member of the Florida Bar for over two decades, I have successfully handled countless personal injury cases involving drivers who text while driving. With my office in Plantation, Florida, I also represent clients in Fort Lauderdale, Miami, Pembroke Pines, and Hollywood.
The Dangers of Texting & Driving
A driver can be distracted while operating a motor vehicle if their eyes are taken off the road, their minds off the task of driving, or their hands off of the steering wheel. Texting while driving combines all three types of distractions:
Manual: The driver takes either or both hands off the wheel to hold a cell phone and send or read messages

Visual: The driver looks at the cell phone screen, which forces eyes off the road

Cognitive: The driver thinks about sending or reading a message
Florida's Texting & Driving Law
Understanding Florida law is crucial to determining fault for crashes involving distracted drivers. Texting while driving is a primary offense in the state of Florida, meaning law enforcement can stop vehicles if they see a driver texting while operating a motor vehicle, even if the driver is not violating any other traffic laws.
Florida law prohibits motorists from driving while manually entering letters, symbols, or numbers to send a text message, instant message, or email. Exceptions to the texting and driving law include:
Driving an emergency vehicle while performing official duties

Using a cell phone to report an emergency or criminal activity to law enforcement

Receiving messages related to the operation/navigation of the vehicle or any safety-related information

Using devices for navigation purposes

Using autonomous mode to operate an autonomous vehicle

Using a wireless communication device to activate or deactivate a function or feature
What to Do When Hit By a Texting Driver
Being involved in a car accident can be an overwhelming and confusing experience, especially if the other driver was texting at the time of the crash. Fortunately, you might be entitled to financial compensation for your damages suffered in the texting while driving accident. In order to do so, you need to understand how to file a claim and prove that the other motorist was texting.
Filing a Claim in Florida
Florida adheres to a "no-fault" system, which requires all motorists to purchase auto insurance coverage to cover medical bills and property damage costs up to policy limits. Under Florida law, drivers must carry $10,000 in personal injury protection (PIP) and property damage coverage. However, if you suffer over $10,000 in losses and damages or your injuries meet the serious injury threshold, you can pursue a third-party claim against the at-fault motorist.
Proving the Other Driver Was Texting
Generally, there are four ways to prove that the other driver was using a cell phone and driving at the time of the car accident:
They admit it — It is, however, rare for distracted drivers to admit to using a cell phone.

Cameras — Surveillance and traffic cameras may have recorded the moment of the crash, showing that the other driver was distracted by a phone.

Witness Statements — If witnesses can confirm that the other driver was texting while driving, you can use statements for your future claim.

The Driver's Phone Records — A skilled attorney can help you gain access to the distracted driver's phone records by asking the court to order a cell phone service provider to release phone records.
Working with an Experienced
Personal Injury Attorney
A distracted driver should not get away with causing injuries or property damage to others because of the inability to stay focused on the task of driving. If you are injured in a car accident associated with texting while driving, call me at the Law Offices Of Garry F. Connell, PA today. I proudly represent car accident victims and families in Plantation, Fort Lauderdale, Miami, Pembroke Pines, and Hollywood, Florida.